Age: 12+ months
Contains: (21) wooden stones
Size: 8.3" x 5.6" x 1.8" (21cm x 14.1cm x 4.5cm)
Weight: 13.2oz (375g)
Material: high-quality eco-friendly wood, non-toxic paint
Care: Clean with a damp cloth and mild soap. Then dry with a clean damp cloth immediately. Avoid prolonged contact with liquids.
Why buy a rock when you can just grab one outside?
Well, for a start, you can't find 21 of them that fit perfectly together. Why should they fit together, you might ask? So your kid can practice stacking them, which will, in turn, improve their fine motor skills, hand-eye coordination, and balance.
All those traits help in everyday life, such as grabbing a mug, holding a doorknob, or carrying their favorite storybook.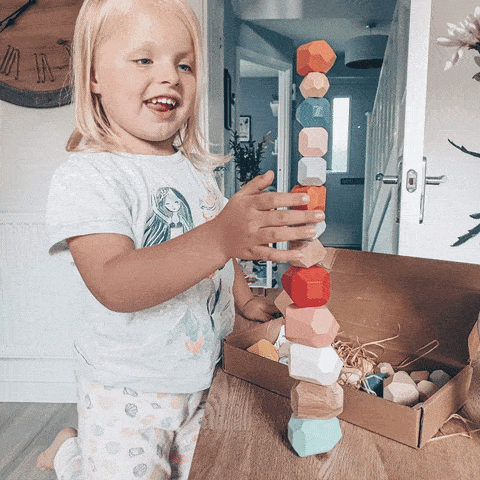 This is how a rock can help your little one learn.
You might think it's silly that a bag of rocks can influence your child's learning process, but that's where most people are wrong. All those shapes, sizes, and colors have a stimulative effect on your young one's brain.
They can create sculptures, constructions, models, and so much more. These are merely tools to help them become future architects, engineers, or designers.

Helps focus, sparks creativity, and develops logical reasoning

Reduces anxiety, agitation, discomfort, and restlessness in toddlers

Keeps your child engaged and motivated to learn for hours

Develops independence, patience, attention span, self-discipline
Stones made out of wood? What?!
Hear us out. First, we made this toy with smooth edges and non-toxic paint, making it safe for your toddler's skin. Second, when rocks inevitably crash and fall, they won't hurt your toddler or damage your furniture since they're lightweight.
Finally, when your kid outgrows them, they can act as decorations, adding that outdoorsy feel to your home.

Do you know how Stonehenge was built?
Neither do we, but it must have taken ages. Same with our toy rocks. They will grab your kid's attention for hours at a time, training their patience and focus and boosting their will to succeed in their ideas. Also, it'll finally give you time to clean up that mess behind your house.

If you need assistance with gift ideas...
Who brings a bag of rocks to a two-year-old's birthday party?! No one! Well, now you do. Other guests might think it's a ridiculous gift, but tell them the story we told you, and their jaws will drop. See who wins the title of the best gift-giver now!

Don't look at this as a simple toy purchase. Look at this as an investment in your child's future. Get Yours Now!
World's most secure payment method
We wish to make your Montessori experience absolutely risk-free. If your child isn't happy with one of our toys within a year, or you think you didn't get your money's worth, we'll refund you.

Anything you order, we'll deliver for free, wherever you are. Free worldwide shipping is guaranteed for all orders, regardless of size or value.

Easy Returns - No Questions Asked

Verified Payment Channels

Use any payment method you feel 100% secure with - MasterCard, Visa, PayPal, American Express, JCB, or Apple Pay.

Use Afterpay and pay only 25% of the cost upon purchase. The rest is spread over the next 6 weeks, with payments coming in every other week.

High Quality & Safety Certified

The toys you'll receive are completely safe for your child. Every toy is safety certified for a specific age, and we use only the highest quality materials to produce them.

Amanda, Hannah, Emily & Jane are the reason why our customer support team is so awesome. They'll assist youwith every part of your Montessori journey.
But that's not all!
Once you become our customer, you also get:
Early Access to Our Holiday Sales

You'll get discounts and promo codes in your inbox before others - you'll avoid the holiday rush and have a full selection to choose from before the stocks run out.

Free Educational Articles

Everything you ever wanted to know about the Montessori method, how to apply it at home, fun and practical activities you can do with your child, and so much more right in your inbox. We wish to give you the full Montessori experience, more than just toys.
Finally, if you have a question or concern or just want to say hi, write to us at
info@montessorigeneration.com
, and we'll get back to you as soon as possible.
Take advantage of this offer, and surprise your little one with a great educational toy.
Order Yours Now
.
World's most secure payment method