Age: 3+
Contains: (26) wooden letters, (28) cards
Size: 9.6" x 8.3" x 1.5" (24.5cm x 21cm x 3.8cm)
Weight: 12.3oz (350g)
Material: non-toxic card paper, eco-friendly high-quality wood
Care: Clean with a damp cloth and mild soap. Then dry with a clean damp cloth immediately. Avoid prolonged contact with liquids. Cards - Spot clean only with a damp cloth.
Does your child have a hard time spelling?
You may have noticed that your child's peers are already writing or reading shorter words and sentences. Perhaps you remember that your toddler started talking later than when you thought was usual. Sometimes they struggle with naming letters and numbers.
It's not alarming, but there is a way to provide the support that will make the first school days more comfortable.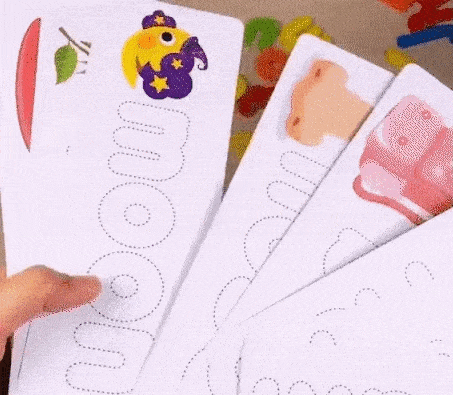 How to convince your kid that school is actually cool?
This toy is an excellent way to introduce spelling through fun and play for kids that have nothing holding them back but are simply unwilling to sit down and learn.
Colors, cards, pictures, and cut-out letters will entertain them while they develop language skills, pronunciation, comprehension, punctuation, and all those other big, important words.

Improves spelling, helps speech, boosts memory

Reduces anxiety, agitation, discomfort, and restlessness in children

Keeps your child engaged and motivated to learn for hours

Develops independence, focus, attention span, self-discipline
This is exactly how Shakespeare started.
True story! His mom needed some time to do the chores around the house and thought what a wonderful idea it would be to order this kind of toy online to keep young William busy. She found our shop, but little did she know what would come of it.
(We're not saying we helped in writing "Romeo and Juliet," but we're not saying we didn't, either).
Once you get it, your future little poets and journalists can "write" on it indefinitely. It's made from natural and recyclable materials, making it safe for both your child and the environment.
When your children are old enough, so they don't need it anymore, gift it to someone else or simply recycle it. Everybody recycles, and so should you!

All you need to do is write a gift card...
... the rest is on us. Compose that lovely happy birthday wishing message, put your pen to paper, and let the words flow. Providing you with a perfect gift for your friend's kid's birthday is our job.

Don't look at this as a simple toy purchase. Look at this as an investment in your child's future. Get Yours Now!
World's most secure payment method
We wish to make your Montessori experience absolutely risk-free. If your child isn't happy with one of our toys within a year, or you think you didn't get your money's worth, we'll refund you.

Anything you order, we'll deliver for free, wherever you are. Free worldwide shipping is guaranteed for all orders, regardless of size or value.

Easy Returns - No Questions Asked

Verified Payment Channels

Use any payment method you feel 100% secure with - MasterCard, Visa, PayPal, American Express, JCB, or Apple Pay.

Use Afterpay and pay only 25% of the cost upon purchase. The rest is spread over the next 6 weeks, with payments coming in every other week.

High Quality & Safety Certified

The toys you'll receive are completely safe for your child. Every toy is safety certified for a specific age, and we use only the highest quality materials to produce them.

Amanda, Hannah, Emily & Jane are the reason why our customer support team is so awesome. They'll assist youwith every part of your Montessori journey.
But that's not all!
Once you become our customer, you also get:
Early Access to Our Holiday Sales

You'll get discounts and promo codes in your inbox before others - you'll avoid the holiday rush and have a full selection to choose from before the stocks run out.

Free Educational Articles

Everything you ever wanted to know about the Montessori method, how to apply it at home, fun and practical activities you can do with your child, and so much more right in your inbox. We wish to give you the full Montessori experience, more than just toys.
Finally, if you have a question or concern or just want to say hi, write to us at
info@montessorigeneration.com
, and we'll get back to you as soon as possible.
Take advantage of this offer, and surprise your little one with a great educational toy.
Order Yours Now
.
World's most secure payment method