Age: 3+
Contains: (4) wooden puzzle sets
Size: 8.4" x 3.9" x 0.6" (21.3cm x 10cm x 1.5cm)
Weight: 16.2oz (460g)
Material: high-quality eco-friendly wood, non-toxic paint
Care: Clean with a damp cloth and mild soap. Then dry with a clean damp cloth immediately. Avoid prolonged contact with liquids.
Why a puzzle and not something else?
It's a hobby your kid can enjoy without staring at a screen. It'll create new neural connections in your kid's brain, making it easier for them to learn new stuff. It'll train their memory and make school lessons easier to remember. It will also teach them math concepts like shapes, sizes, and numbers.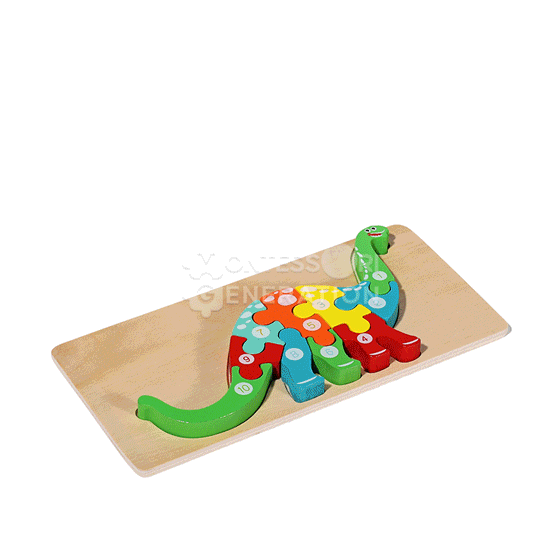 Don't just work hard. Try a different approach.
This goes for both you and your toddler. Sometimes it's not enough to give 110%. You'll only end up frustrated and give up. Teach your kids to try a different approach when facing a difficult problem.
Take a puzzle, for example. If a piece doesn't fit, try rotating it, or use another piece altogether.

This is how you make your child stick with something.
Solving a puzzle requires time and patience. You can't cheat it. It's done only when the final piece is placed. However, a puzzle creates an urge to complete it. This will directly apply to your kid's other activities. They'll never become quitters. They'll always finish what they started.

Fine Motor Skills: This will help your kid write, draw, and learn to play an instrument.

Memory: Your toddler will need to remember which part goes where increasing their ability to remember other stuff as well.

Hand-Eye Coordination: This boosts a connection between their hands, eyes, and brains. Great for sports!

Confidence: Completing a puzzle increases confidence. If they can solve a puzzle, they can do anything they put their minds to.

Language skills: Your little one will learn ordinal numbers, what "above" and "below" means, and how to say it.

Spatial Awareness: Your child will learn what fits into what. Like, can all of my kindergarten clothes fit in a pencil box? No!
Wooden, safe, and eco-friendly.
Wood is the best toy material. Period! It's been around for centuries for a reason. It's safe for your toddler's skin and health. It has rounded edges and a natural paint, making your little one's play sessions carefree. It's also recyclable because we want to keep our environment intact.

Keep it within your kid's reach!
You know all those commercial warnings saying to keep the product outside children's reach. We want you to do the opposite. Why? Because this is how you train their independence. They need to be able to access it and put it away by themselves. This is how you prepare them to become self-sufficient young adults.
Raising your kids doesn't have to be the hardest thing on Earth. Take a deep breath and relax for a moment. We've got your back! Our toys are all the help you need. Get Yours Now!
World's most secure payment method
We wish to make your Montessori experience absolutely risk-free. If your child isn't happy with one of our toys within a year, or you think you didn't get your money's worth, we'll refund you.

Anything you order, we'll deliver for free, wherever you are. Free worldwide shipping is guaranteed for all orders, regardless of size or value.

Easy Returns - No Questions Asked

Verified Payment Channels

Use any payment method you feel 100% secure with - MasterCard, Visa, PayPal, American Express, JCB, or Apple Pay.

Use Afterpay and pay only 25% of the cost upon purchase. The rest is spread over the next 6 weeks, with payments coming in every other week.

High Quality & Safety Certified

The toys you'll receive are completely safe for your child. Every toy is safety certified for a specific age, and we use only the highest quality materials to produce them.

Amanda, Hannah, Emily & Jane are the reason why our customer support team is so awesome. They'll assist youwith every part of your Montessori journey.
But that's not all!
Once you become our customer, you also get:
Early Access to Our Holiday Sales

You'll get discounts and promo codes in your inbox before others - you'll avoid the holiday rush and have a full selection to choose from before the stocks run out.

Free Educational Articles

Everything you ever wanted to know about the Montessori method, how to apply it at home, fun and practical activities you can do with your child, and so much more right in your inbox. We wish to give you the full Montessori experience, more than just toys.
Finally, if you have a question or concern or just want to say hi, write to us at
info@montessorigeneration.com
, and we'll get back to you as soon as possible.
Take advantage of this offer, and surprise your little one with a great educational toy.
Order Yours Now
.
World's most secure payment method