How to nurture healthy habits from day one.
By introducing your kid to nature and organic foods. What better way to show them where the food comes from than by explaining it with their favorite toys? Fruits and vegetables grow on trees and in soil, not on supermarket shelves.
Teach them while they are young. Familiarizing them with food origin makes them appreciate it more.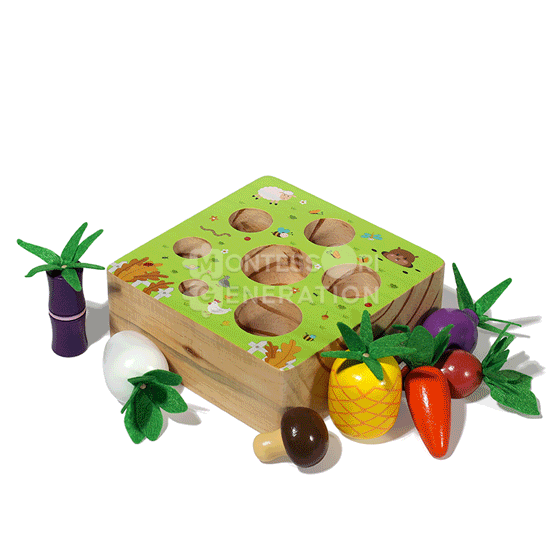 You won't believe how fast they grow!
Toddlers will try to "plant" each fruit and vegetable in a fitting hole. Doing this will strengthen their grasping muscles, hand-eye coordination, and logical thinking.
They will learn colors, shapes, sizes, and textures. Just like vegetables, your young ones will grow before your eyes.

Improves fine motor skills, recognizing ability, and brainpower

Reduces anxiety, agitation, discomfort, and restlessness in children

Keeps your child engaged and motivated to learn for hours

Develops independence, focus, attention span, self-discipline
Does your kid think vegetables are just a "yucky" side dish?
All of their favorites are here! We use tomatoes to make ketchup, Bugs Bunny loves carrots, and don't get us started on pineapple pizza.
Kids who recognize shapes and colors they regularly play with on their plates are more open to trying new, healthier dishes. Experiencing new tastes with a pinch of a familiar look makes parents' lives much simpler!

Like the food you bring to the table, you want the toys your kid plays with to be organic too. Kids put toys next to their faces, try to bite them, and hold them for hours. Everything they are in contact with must be safe, odorless, and non-toxic.
That is why we pay special attention to the materials that make the core of our toys.
Working in a field to show your toddler all this can be tiresome, but worry not. Playing at home with your kids using this toy can reap the same rewards! Spend time with them and teach them stuff you learned from your grandparents.

Take your favorite toy to an actual garden or farmer's market and show your kids how it compares to the real stuff. It makes for a fun and educational trip!
Raising your kids doesn't have to be the hardest thing on Earth. Take a deep breath and relax for a moment. We've got your back! Our toys are all the help you need. Get Yours Now!
Age: 1+
Size: 5.9in x 5.9in x 2.2in (15 x 15 x 5.5cm)
Material: High-quality wood
World's most secure payment method