This is why you should get your kid into puzzles now.
The elderly who enjoyed puzzles regularly throughout their lives had brain scans similar to those of the 25-year-olds. Doing puzzles from the youngest age can prevent memory loss and dementia later in life.
That's why you want to introduce your kids to this valuable pastime as soon as possible. Montessori Sorting Puzzle serves all these purposes!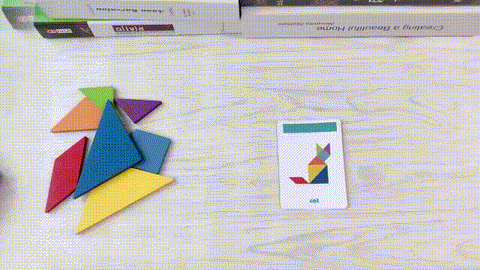 How to train both the left and right side of the brain?
It's no wonder Bill Gates made it so far in life. He has a puzzle by his side at all times. On the left side, your child develops brain cells essential for math, science, and language. On the right side are the ones that encourage creativity, multitasking, and decision-making.
Knowing this, don't let your kid miss out on a head start like this.

Helps focus, develops small muscle control, improves problem-solving skills

Reduces anxiety, agitation, discomfort, and restlessness in children

Keeps your child engaged and motivated to learn for hours

Develops memory, logic, attention span, intuition
Want a toy your child won't get bored of?
Like Tangram, a Chinese puzzle invented over 200 years, this toy will be a part of your family for generations. This isn't a puzzle that gets tossed aside once it's done. Your kids will replicate not only a whopping 50 ideas that come with it but also make their own ideas come to life.

Eco-friendly & child-friendly
If we wish to be here for the next not only 200 but 2000 years, we need to start acting now. And we did! Eco-friendly, non-polluting, and recyclable materials are the core of this and many other of our toys.
More importantly, your child needs to be safe around any toy they play with. This one has smooth edges, is painted with non-toxic paint, and is odorless.

And now, something for you...
How often were you puzzled by the number of choices inside a children's section when looking for a gift? There are too many toys, and they all look the same. Or at least, you think they'll end up the same - forgotten about in a matter of days. This is a solution to any kid's birthday party you get invited to.

Don't look at this as a simple toy purchase. Look at this as an investment in your child's future. Get Yours Now!
Age: 3+
Material: High-quality wood
7 puzzles
25 double-faced cards
1 storage box
World's most secure payment method