Indoors snowman without snow?!
That's right! Christmas came early this year. You just found a toy that can be enjoyed regardless of the weather. Let your kid pick a spot in your home and place the snowman on the wall. Watch your kid's imagination sparkle. Boost their creativity with one simple but clever toy!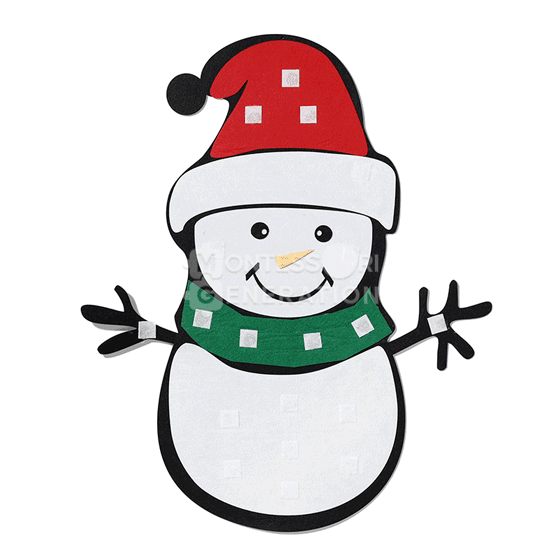 Festive and fun, yet educational and practical.
This is not a decorative toy you put on a wall and then forget about in a day or two. It serves as a daily challenge to kids, as they can customize the snowman's look like the one you're about to build once the snow falls. It serves to inspire kids every day.

Helps fine motor skills, improves concentration, and develops logical reasoning

Reduces anxiety, agitation, discomfort, and restlessness in children

Keeps your child engaged and motivated to learn for hours

Develops independence, patience, attention span, self-discipline
Do you wanna build a snowman? Come on, let's go and play!
Unlike Elsa, we are sure you do! And your toddler knows it too. Maybe our snowman won't come alive as Olaf did, but it can stand the heat from a fireplace while you, your kid, and the rest of the family make a life-lasting memory, decorating it and sharing love and laughter.

Holidays are a time to relax...
And not worry about the safety of toys around your toddlers. We thought about your needs, wishes, and desires and designed a carefree toy your young one can play with without danger from toxic paints or sharp edges. Lay back and enjoy the festive cheer.

Our sleds are faster than Santa's!
We race Santa every year to see who can deliver more gifts in less time. So far, we are winning. If you don't believe us, try for yourself. Order a toy from us and another from Santa. See who gets it to you faster! Get Yours Now!
Age: 1+
Size: 23in x19in (59 x 48cm)
Material: Felt
World's most secure payment method