Your kid won't get an "F" in math class.
Maybe it was you or someone you know, but you can clearly remember those awkward moments coming home after a failed test in algebra. At that point, a parent wonders whether to lecture a child or simply say it's going to be ok.
Well, we made a toy with an idea to prevent such scenarios from happening in the first place.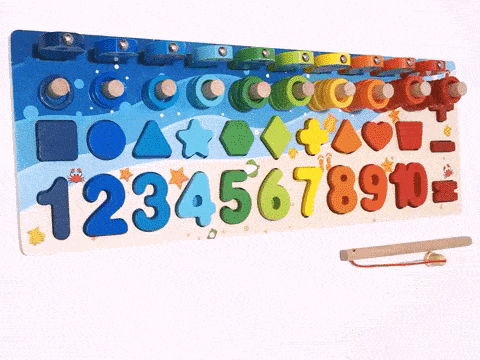 This is the toy all future NASA employees play with.
Solve problems. Think analytically. Work independently. Those are the requirements your child will be asked to meet both in school and later at work. It won't be easy, but you can give your kid a head start.
Math toys, such as ours, not only prepare children for future challenges but do it through fun and play.

Improves problem-solving skills, increases attention to detail

Reduces anxiety, agitation, discomfort, and restlessness in children

Keeps your child engaged and motivated to learn for hours

Develops mental discipline, focus, attention span, logical reasoning
You want your kid to be organized, right?
Teach your kid how to organize their time, sort their priorities and tidy their room. Applying the same principles to playtime, school, and chores makes everything more fun and less demanding.
This toy has a neatly designed board with a special place for every piece. And it should be the same when it comes to our everyday lives.

We did the math, and here are the results:
Health plus safety times eco-friendly philosophy equals natural materials, non-toxic paint, and smooth edges. This keeps your child safe while spending hours with this toy and the environment intact once they're done with it.

How many days until the little brainiac's birthday?
The countdown begins as soon as you rip the final calendar page before their birth month. They'll put their little finger on the "1st" and count each day enthusiastically. You shouldn't disappoint them once the big day comes. But worry not. That's why this toy exists!
Don't look at this as a simple toy purchase. Look at this as an investment in your child's future. Get Yours Now!
Age: 3+
Size: 16.5in x 5.9in (42 x 15cm)
Material: High-quality wood
World's most secure payment method