Age: 3+
Contains: (1) soft board, (30) pegs, (1) bag
Size: 8.3" x 8.3" x 2.0" (21.2cm x 21.2cm x 5cm)
Weight: 10.6oz (300g)
Material: 100% safe ABS plastic and soft, elastic EVA fabric
Care: Handwash with warm water and mild detergent. Then wipe with a clean dry cloth or let air dry. Board - Spot clean only.
Don't be the cause of your child's short attention span.
Even though it seems like a good idea to put on a YouTube video and have your child watch it while you do chores or have some time for yourself, it is detrimental to their health.
Your kid will get used to sitting, watching, and putting in no effort. And let's not even get started on obesity, short-sightedness, lack of interest and focus in school, and bad grades.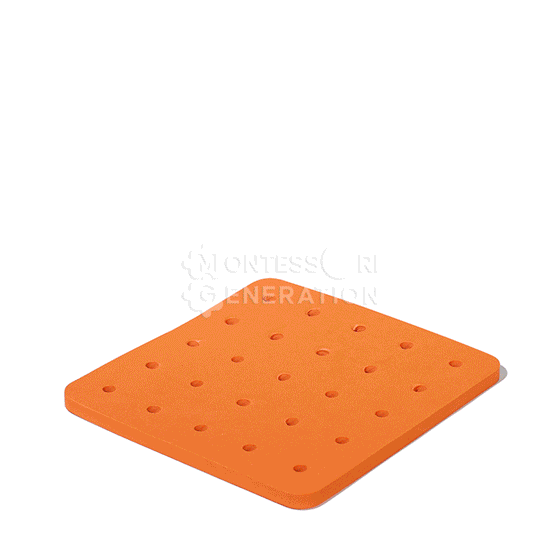 Start early by introducing your kid to toys and materials that stimulate their brains and require active participation, just like in a school class.
Toys like pegboards employ fine hand muscles used for holding a spoon or a pen. They teach the basics of geometry and math. They ask kids to sort pieces by size and color, as they would with their clothes or shoes.

Helps patience, develops spatial awareness, improves logical reasoning

Encourages purposeful play with zero screen time

Keeps your child engaged and motivated to learn for hours

Develops memory, logic, dexterity, intuition
Now we come back to your original concern.
Will this keep my kids occupied for long enough that I have time to finish my work around the house? Absolutely! That's the idea behind every one of our designs.
And not only that. Once you have finished all your work, sit down and play with your kids. Spend some valuable time together, as there is no time like now.

There is also a matter of health and safety.
We couldn't agree more! One can't simply care about cognitive development but neglect physical and health aspects. That's why we use safe materials so as not to endanger your child's skin. Non-toxic paint and smooth edges are guaranteed.

Is this a toy I should get as a birthday gift, though?
Many others had exactly the same dilemma, but we only received "thank you" notes for this birthday gift idea. Beware of the side effects, though. Overjoyed children and thankful parents are just some of them.
Raising your kids doesn't have to be the hardest thing on Earth. Take a deep breath and relax for a moment. We've got your back! Our toys are all the help you need. Get Yours Now!
World's most secure payment method
We wish to make your Montessori experience absolutely risk-free. If your child isn't happy with one of our toys within a year, or you think you didn't get your money's worth, we'll refund you.

Anything you order, we'll deliver for free, wherever you are. Free worldwide shipping is guaranteed for all orders, regardless of size or value.

Easy Returns - No Questions Asked

Verified Payment Channels

Use any payment method you feel 100% secure with - MasterCard, Visa, PayPal, American Express, JCB, or Apple Pay.

Use Afterpay and pay only 25% of the cost upon purchase. The rest is spread over the next 6 weeks, with payments coming in every other week.

High Quality & Safety Certified

The toys you'll receive are completely safe for your child. Every toy is safety certified for a specific age, and we use only the highest quality materials to produce them.

Amanda, Hannah, Emily & Jane are the reason why our customer support team is so awesome. They'll assist youwith every part of your Montessori journey.
But that's not all!
Once you become our customer, you also get:
Early Access to Our Holiday Sales

You'll get discounts and promo codes in your inbox before others - you'll avoid the holiday rush and have a full selection to choose from before the stocks run out.

Free Educational Articles

Everything you ever wanted to know about the Montessori method, how to apply it at home, fun and practical activities you can do with your child, and so much more right in your inbox. We wish to give you the full Montessori experience, more than just toys.
Finally, if you have a question or concern or just want to say hi, write to us at
info@montessorigeneration.com
, and we'll get back to you as soon as possible.
Take advantage of this offer, and surprise your little one with a great educational toy.
Order Yours Now
.
World's most secure payment method