Age: 4+
Contains: (1) balancing tool, (19) monkey figurines, (10) number figurines, (30) double-sided cards
Size: 12.4" x 3.5" x 6.6" (31.5cm x 9cm x 16.8cm)
Weight: 18.2oz (515g)
Material: 100% safe, non-toxic ABS plastic
Care: Handwash with warm water and mild detergent. Then wipe with a clean dry cloth or let air dry. Cards - Spot clean only a damp cloth.
Did you know math can stop confusion in your kid's mind?
Things we see and use daily are the same things kids meet for the first time in their lives. All that new information clutters their brains and creates confusion, resulting in a kid with many but no real interests.
To prevent them from wandering aimlessly, we made a toy that serves as a fun companion on a journey to your child's first school days.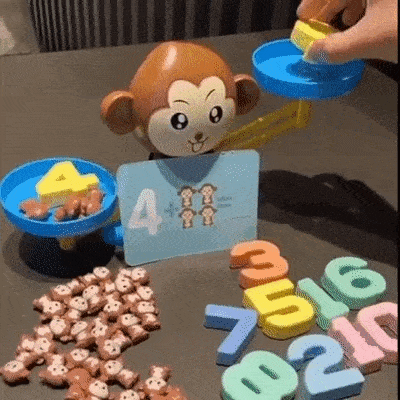 Can a 4-year-old learn calculus while having fun?
Absolutely! On one side, there are numbers and equation cards, and on the other, monkey figurines and a balancing scale. Number "8" weighs as "5" and "3" combined, and 6 little monkeys weigh as much as the number "6".
Finding the right balance will prepare your little mathlete for any math problem they face in class.

Helps cognitive development, improves problem-solving skills

Encourages purposeful play with zero screen time

Keeps your child engaged and motivated to learn for hours

Develops mental discipline, focus, attention span, logical reasoning
We put 2 and 2 together, and safety is #1!
Don't let the fact this toy is plastic fool you. Even though it's not like the rest of our wooden ones, we still use the highest quality materials so your kids can enjoy it carefree.
We also encourage you to, like us, recycle as much as you can. Once your kid is too old to play with it, give it away as a gift or take it to an appropriate recycling bin.

Calculus is a game, not just homework.
Sit your kids down, let them draw math problem cards, and the one who solves the most in a minute wins. You know they love a good contest, so why not make it educational? We did it as kids, and we loved it. Whoever was the winner that week had bragging rights until the next one.
LEVEL I: Green cards - learn to identify numbers.
LEVEL II: Purple cards - learn to count.
LEVEL III: Blue cards - introduce calculus.


A gift that keeps on giving...
... fantastic results. Literally! Only correct results bring balance to this toy. And only the correct gift will bring joy to the child's birthday party you were invited to not so long ago. Don't wander around, but grab one of these under your hand and bring an actually useful gift to that kid, not something they will throw away after two days. You'll thank us later.
Don't look at this as a simple toy purchase. Look at this as an investment in your child's future. Get Yours Now!
World's most secure payment method
We wish to make your Montessori experience absolutely risk-free. If your child isn't happy with one of our toys within a year, or you think you didn't get your money's worth, we'll refund you.

Anything you order, we'll deliver for free, wherever you are. Free worldwide shipping is guaranteed for all orders, regardless of size or value.

Easy Returns - No Questions Asked

Verified Payment Channels

Use any payment method you feel 100% secure with - MasterCard, Visa, PayPal, American Express, JCB, or Apple Pay.

Use Afterpay and pay only 25% of the cost upon purchase. The rest is spread over the next 6 weeks, with payments coming in every other week.

High Quality & Safety Certified

The toys you'll receive are completely safe for your child. Every toy is safety certified for a specific age, and we use only the highest quality materials to produce them.

Amanda, Hannah, Emily & Jane are the reason why our customer support team is so awesome. They'll assist youwith every part of your Montessori journey.
But that's not all!
Once you become our customer, you also get:
Early Access to Our Holiday Sales

You'll get discounts and promo codes in your inbox before others - you'll avoid the holiday rush and have a full selection to choose from before the stocks run out.

Free Educational Articles

Everything you ever wanted to know about the Montessori method, how to apply it at home, fun and practical activities you can do with your child, and so much more right in your inbox. We wish to give you the full Montessori experience, more than just toys.
Finally, if you have a question or concern or just want to say hi, write to us at
info@montessorigeneration.com
, and we'll get back to you as soon as possible.
Take advantage of this offer, and surprise your little one with a great educational toy.
Order Yours Now
.
World's most secure payment method