Did you know math can stop confusion in your kid's mind?
Things we see and use daily are the same things kids meet for the first time in their lives. All that new information clutters their brains and creates confusion, resulting in a kid with many but no real interests.
To prevent them from wandering aimlessly, we made a toy that serves as a fun companion on a journey to your child's first school days.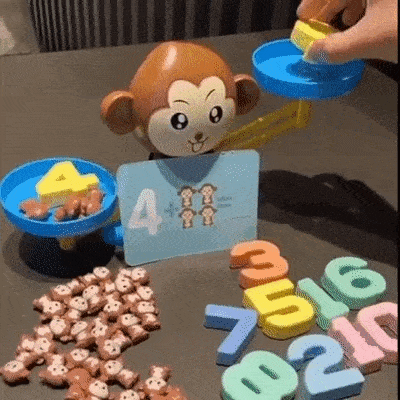 Can a 4-year-old learn calculus while having fun?
Absolutely! On one side, there are numbers and equation cards, and on the other, monkey figurines and a balancing scale. Number "8" weighs as "5" and "3" combined, and 6 little monkeys weigh as much as the number "6".
Finding the right balance will prepare your little mathlete for any math problem they face in class.

Helps cognitive development, improves problem-solving skills

Reduces anxiety, agitation, discomfort, and restlessness in children

Keeps your child engaged and motivated to learn for hours

Develops mental discipline, focus, attention span, logical reasoning
We put 2 and 2 together, and safety is #1!
Don't let the fact this toy is plastic fool you. Even though it's not like the rest of our wooden ones, we still use the highest quality materials so your kids can enjoy it carefree.
We also encourage you to, like us, recycle as much as you can. Once your kid is too old to play with it, give it away as a gift or take it to an appropriate recycling bin.

Calculus is a game, not just homework.
Sit your kids down, let them draw math problem cards, and the one who solves the most in a minute wins. You know they love a good contest, so why not make it educational? We did it as kids, and we loved it. Whoever was the winner that week had bragging rights until the next one.
LEVEL I: Green cards - learn to identify numbers.
LEVEL II: Purple cards - learn to count.
LEVEL III: Blue cards - introduce calculus.


A gift that keeps on giving...
... fantastic results. Literally! Only correct results bring balance to this toy. And only the correct gift will bring joy to the child's birthday party you were invited to not so long ago. Don't wander around, but grab one of these under your hand and bring an actually useful gift to that kid, not something they will throw away after two days. You'll thank us later.
Don't look at this as a simple toy purchase. Look at this as an investment in your child's future. Get Yours Now!
Suitable for children over 4 years old.
Material: ABS
100% brand new and high quality.
Using high-quality non-toxic plastic material
Color: as the picture show
Style: Monkey
Package Size: 10.4in x 10.4in x 3.1in (26.5 x 26.5 x 8cm) - After assembly: 13.4in x 6.7in
Note: Please play in the company of adults and avoid swallowing.
30 x Double-Sided Card
19 x Small Monkey
10 x Digital Model
1 x Balance
World's most secure payment method