Is educating a child like finding a way out of a labyrinth?
Let our animal friends help you stay on the right track. Holding a guiding stick is like holding an actual pen when writing. Discovering a path through the maze helps your kid stay focused in long school classes.
Doing all that on differently shaped and colored mazes will help your child's color recognition and, ultimately, their imagination.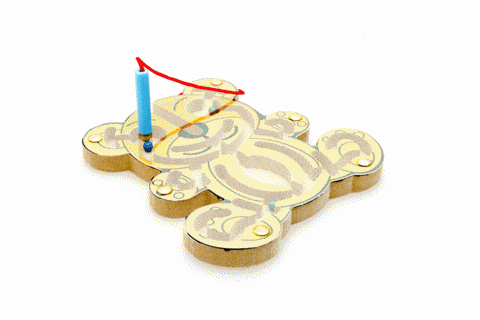 This is why training patience is so important.
A 3-second attention span caused by phones and TV is the primary cause of learning difficulties. From the first day of kindergarten, kids are expected to stay concentrated for prolonged periods. That's why our Magnetic Maze sets a simple goal but a difficult path to it which trains patience and the will to succeed.

Helps fine motor skills, improves focus, and develops problem-solving skills

Reduces anxiety, agitation, discomfort, and restlessness in toddlers

Keeps your child engaged and motivated to learn for hours

Develops independence, patience, attention span, self-discipline
It really has a "magnetic pull"!
Not only will your child benefit from enjoying this toy for hours, but so will you. Sit your toddler down somewhere you can keep your eye on them and continue your day's work without a care.
Read a book, solve a crossword puzzle, or listen to some quality music. Set an example you want your kid to follow.

Safe for toddlers and easy to store.
We tied all the parts together to make this toy safe around children and hard to lose around the house since they can't pull it apart.
On top of it, we use only materials that comply with eco regulations, resulting in a cleaner environment when your young one grows up. We thought about everything!
Find your way out of a tricky birthday situation.
Your friend's kid's birthday is next week. It's tiresome to go around shops trying to find a fitting gift. It takes so much time, and it's always no match for what Susan brings. She's so creative.
Well, no more! A few clicks on our website, a courier brings it to your doorstep, and look who's the best gift-giver now!

Age: 2+
Size: 6.1 in x 5.5 in x 0.55 in (15.5 x 14 x 1.4cm)
Main Material: 100% Natural Wood & Water-Based Paint (Non-Toxic)
Raising your kids doesn't have to be the hardest thing on Earth. Take a deep breath and relax for a moment. We've got your back! Our toys are all the help you need. Get Yours Now!
World's most secure payment method