Age: 12+ months
Contains: (1) tree, (25) ornaments
Size: 39.4" x 27.0" (100cm x 68.5cm)
Weight: 6.9oz (195g)
Material: durable and 100% safe, felt fabric
Care: Use a clothes iron to make it flat. Spot clean only.
Christmas without a mess? No way! Make it happen now.
You'll sing praises more often than Christmas carols once you see your toddler's unique and imaginative tree decorations.
This simple design allows your kid to place it anywhere they like and arrange ornaments however they like. Stimulating children's creativity was our last New Year's decision.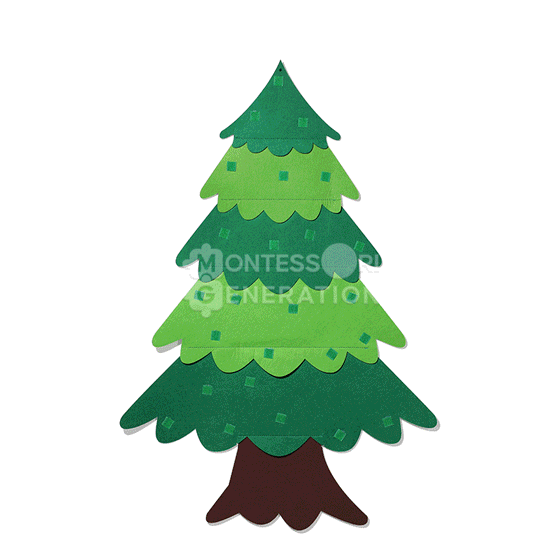 Our Santa brings educational presents.
Decorating a Christmas tree or wrapping up presents is more than that. It is kids trying to match colors, find patterns, fit different sizes together, and, most importantly, have fun while doing so. These "tasks" help children improve their recognizing ability and logical reasoning.
Improves recognition ability, logical thinking, and fine motor skills

Reduces anxiety, agitation, discomfort, and restlessness in toddlers

Keeps your child engaged and motivated to learn for hours

Develops independence, creativity, attention span, imagination
You won't feel like a Grinch for redecorating a Christmas tree late in the night after you've already decorated it with your kids the first time. Do it together! You get the big one, and they do the little one. Everyone's happy!

What do you do for Christmas?
This tree will make you spend quality time with your kids and keep you engaged over the holiday season. Get everyone involved and decorate while the snow is falling and bells are ringing. Memories like these last a lifetime.

Christmas is no time to worry.
Unlike others, our Christmas tree is sturdy, compact, and easy to store and you will enjoy it year after year. Eco-friendly, non-toxic, odorless, and safe materials will make you enjoy the festivities rather than be concerned.

This Christmas, make your kid's biggest wish come true! Get Yours Now!
World's most secure payment method
We wish to make your Montessori experience absolutely risk-free. If your child isn't happy with one of our toys within a year, or you think you didn't get your money's worth, we'll refund you.

Anything you order, we'll deliver for free, wherever you are. Free worldwide shipping is guaranteed for all orders, regardless of size or value.

Easy Returns - No Questions Asked

Verified Payment Channels

Use any payment method you feel 100% secure with - MasterCard, Visa, PayPal, American Express, JCB, or Apple Pay.

Use Afterpay and pay only 25% of the cost upon purchase. The rest is spread over the next 6 weeks, with payments coming in every other week.

High Quality & Safety Certified

The toys you'll receive are completely safe for your child. Every toy is safety certified for a specific age, and we use only the highest quality materials to produce them.

Amanda, Hannah, Emily & Jane are the reason why our customer support team is so awesome. They'll assist youwith every part of your Montessori journey.
But that's not all!
Once you become our customer, you also get:
Early Access to Our Holiday Sales

You'll get discounts and promo codes in your inbox before others - you'll avoid the holiday rush and have a full selection to choose from before the stocks run out.

Free Educational Articles

Everything you ever wanted to know about the Montessori method, how to apply it at home, fun and practical activities you can do with your child, and so much more right in your inbox. We wish to give you the full Montessori experience, more than just toys.
Finally, if you have a question or concern or just want to say hi, write to us at
info@montessorigeneration.com
, and we'll get back to you as soon as possible.
Take advantage of this offer, and surprise your little one with a great educational toy.
Order Yours Now
.
World's most secure payment method