Age: 2+
Size: 17.7" x 11.2" x 0.8" (45cm x 28.5cm x 2cm)
Weight: 4.4oz (125g)
Materials: soft felt with strong bindings
Care: Spot clean only.
This is why every parent is rushing to get a busy board!
They want their kids to start learning before school, and so should you. This quiet toy will develop your toddler's fine motor skills, hand-eye coordination, and attention span.
These skills will help them hold a pen, pour juice into a glass without spilling, and stay focused in school. They will also build their muscle memory and finger strength.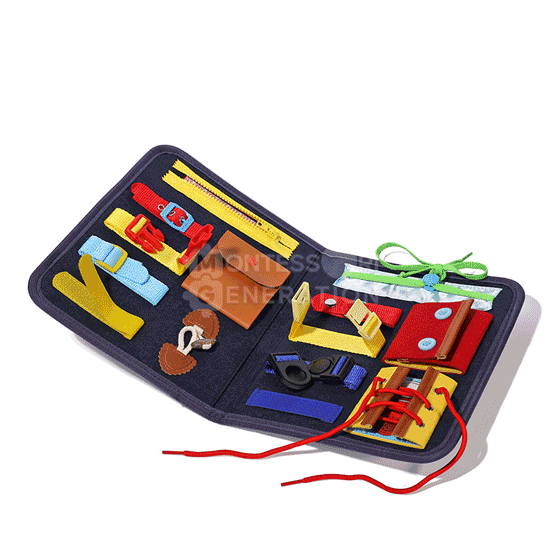 Want your kid to dress on their own?
Kindergarten is tough. It's best if your little one comes well-prepared. It's even better if you can save your back from bending down and tying their laces every 15 minutes.
The Montessori Busy Board is a toy that will make your child a self-sufficient youngster who doesn't need to be asked twice to do something. All you'll hear from now on is, "I'm ready!"

Shoelaces: An excellent way for kids to learn to tie shoelaces with a lot of fun before they tie on their shoes. It is easier to learn when you don't have to.

Zipper: Children can pull the zipper for hours without getting bored. The little ones will do it with a smile while the sound of 'zzzzz' is overheard.

Snap pocket: It's a challenge for children to close and open their pockets because they need to push hard so it "clicks."

Buckles: Several types of buckles will occupy the attention of your little ones for a long time until they overcome the challenge. When they do, they will be super proud!
How to keep a child amused on a trip.
"Are we there yet? Are we there yet?" Sounds familiar? Of course, it does. We all hear it every time a ride takes longer than 15 minutes. Therefore, our little impatient travel companions need something to keep their minds on while we travel, as they would most likely call it, around the world in 80 days.

The 3 reasons why it's convenient.
You can easily store it, as it doesn't take more space than a book, clean it with a brush or vacuum, and your toddler can single-handedly take it to a playdate as it's lightweight.
Even though this toy targets multiple children's skills and abilities, we wanted to keep the design simple and efficient.

Why is the Montessori Busy Board one of the best educational toys you can find?
"If you need a toy that will keep your toddler's attention during a whole trip, you should buy this Montessori Busy Board. Each of them contains snaps, laces, zippers and buttons, all in a compact, wool felt board. It's also a quiet, portable and lightweight toy that will make your toddler feel grown up and happy." - Jennifer Wallace

Here's an idea for the upcoming birthday party.
You know they like to pretend they are all grown-up, going to work, acting all serious. They see it from us, and they copy us. That's how they learn.
So why not indulge them? Dress them in a cute little suit, with a tie and everything, hand them a "briefcase," and they are ready for their costume birthday party.

Don't look at this as a simple toy purchase. Look at this as an investment in your child's future. Get Yours Now!
World's most secure payment method
We wish to make your Montessori experience absolutely risk-free. If your child isn't happy with one of our toys within a year, or you think you didn't get your money's worth, we'll refund you.

Anything you order, we'll deliver for free, wherever you are. Free worldwide shipping is guaranteed for all orders, regardless of size or value.

Easy Returns - No Questions Asked

Verified Payment Channels

Use any payment method you feel 100% secure with - MasterCard, Visa, PayPal, American Express, JCB, or Apple Pay.

Use Afterpay and pay only 25% of the cost upon purchase. The rest is spread over the next 6 weeks, with payments coming in every other week.

High Quality & Safety Certified

The toys you'll receive are completely safe for your child. Every toy is safety certified for a specific age, and we use only the highest quality materials to produce them.

Amanda, Hannah, Emily & Jane are the reason why our customer support team is so awesome. They'll assist youwith every part of your Montessori journey.
But that's not all!
Once you become our customer, you also get:
Early Access to Our Holiday Sales

You'll get discounts and promo codes in your inbox before others - you'll avoid the holiday rush and have a full selection to choose from before the stocks run out.

Free Educational Articles

Everything you ever wanted to know about the Montessori method, how to apply it at home, fun and practical activities you can do with your child, and so much more right in your inbox. We wish to give you the full Montessori experience, more than just toys.
Finally, if you have a question or concern or just want to say hi, write to us at
info@montessorigeneration.com
, and we'll get back to you as soon as possible.
Take advantage of this offer, and surprise your little one with a great educational toy.
Order Yours Now
.
World's most secure payment method