Age: 1+
Contains: (1) board, (20) shapes
Size: 13.2" x 3.0" x 2.1" (33.5cm x 7.5cm x 5.3cm)
Weight: 15.3oz (435g)
Material: high-quality eco-friendly wood, non-toxic paint
Care: Clean with a damp cloth and mild soap. Then dry with a clean damp cloth immediately. Avoid prolonged contact with liquids.
What does your kid miss out on by not playing with this toy?
Your little one will sooner or later be asked to tidy a room, pack a bag for kindergarten, and do geometry in math class. All these tasks share something in common - shapes, sizes, balance, and coordination.
Playing with this toy, your kid will master these concepts and be ready for school in no time.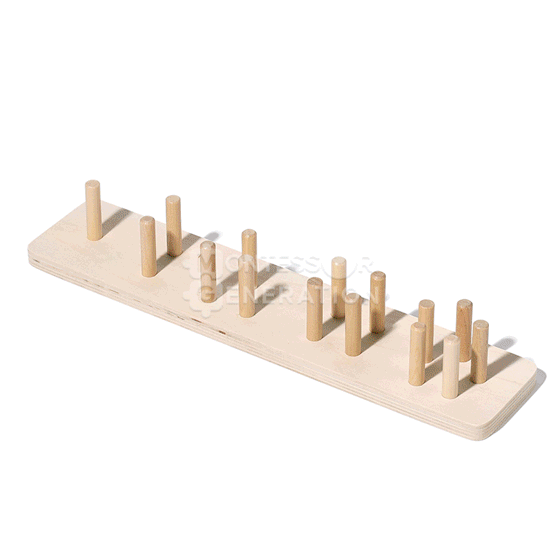 TV, phone, and video games vs. Montessori cognitive toy.
On the one hand, you can just turn on an app, game, or cartoon and let your kid stare at a screen for hours, ruining their sight and attention span.
On the other hand, you can provide your little one with an educational toy they will enjoy as much, if not more, while developing their problem-solving, hand-eye coordination, and language skills.

Helps fine motor skills, improves memory, and strengthens brainpower

Reduces anxiety, agitation, discomfort, and restlessness in children

Keeps your child engaged and motivated to learn for hours

Develops focus, inventiveness, independence, self-discipline
Here's what Susan does when she cooks with her son.
She lays the ingredients on the counter, places little Nick by her side, and gives him Montessori Building Blocks to play with. They name every shape out loud, piece by piece, tell its color, and then Nick puts it in a designated place. By the time she's done preparing their meals, her son is already asking for another round of family fun time.
Throw it in a recycling bin!
We really mean it. If your little one has outgrown it, and you have no one else to gift it to, recycle it. It's made of wood, and it's meant to be recycled. All materials are natural, so your child and nature can feel safe around our toy. You can rest your mind at ease, not worrying about safety issues or potential hazards.

You could build it yourself, but will you actually?
There's a birthday coming up, and you think to yourself, "I might actually make something for that kid." You go to your toolshed, pull out the extra wood planks you keep just in case, and start carving it.
A week later, the toy is finished, but so is the birthday it was intended for. Let's be honest, you don't have a tool shed, and you don't know how to carve wood.

Let us do it for you. Our toys are all your little one needs. Get Yours Now!
World's most secure payment method
We wish to make your Montessori experience absolutely risk-free. If your child isn't happy with one of our toys within a year, or you think you didn't get your money's worth, we'll refund you.

Anything you order, we'll deliver for free, wherever you are. Free worldwide shipping is guaranteed for all orders, regardless of size or value.

Easy Returns - No Questions Asked

Verified Payment Channels

Use any payment method you feel 100% secure with - MasterCard, Visa, PayPal, American Express, JCB, or Apple Pay.

Use Afterpay and pay only 25% of the cost upon purchase. The rest is spread over the next 6 weeks, with payments coming in every other week.

High Quality & Safety Certified

The toys you'll receive are completely safe for your child. Every toy is safety certified for a specific age, and we use only the highest quality materials to produce them.

Amanda, Hannah, Emily & Jane are the reason why our customer support team is so awesome. They'll assist youwith every part of your Montessori journey.
But that's not all!
Once you become our customer, you also get:
Early Access to Our Holiday Sales

You'll get discounts and promo codes in your inbox before others - you'll avoid the holiday rush and have a full selection to choose from before the stocks run out.

Free Educational Articles

Everything you ever wanted to know about the Montessori method, how to apply it at home, fun and practical activities you can do with your child, and so much more right in your inbox. We wish to give you the full Montessori experience, more than just toys.
Finally, if you have a question or concern or just want to say hi, write to us at
info@montessorigeneration.com
, and we'll get back to you as soon as possible.
Take advantage of this offer, and surprise your little one with a great educational toy.
Order Yours Now
.
World's most secure payment method