Age: 0+
Size: 11.4" x 6.1" x 0.7" (29cm x 15.5cm x 1.8cm)
Weight: 2.1oz (60g)
Material: polyester fiber, PVC paper, PP cotton
Care: Machine wash on lower settings.
Do you want your baby to actually engage with you?
Lots of infants are easily irritated. You pick them up or try to play with them, but they are either not interested or just cry. To a new parent, that feels devastating. You wonder whether you're doing something wrong or your baby doesn't even like you. Believe us, that's not the case - you're doing fantastic! However, there are toys that will help you around.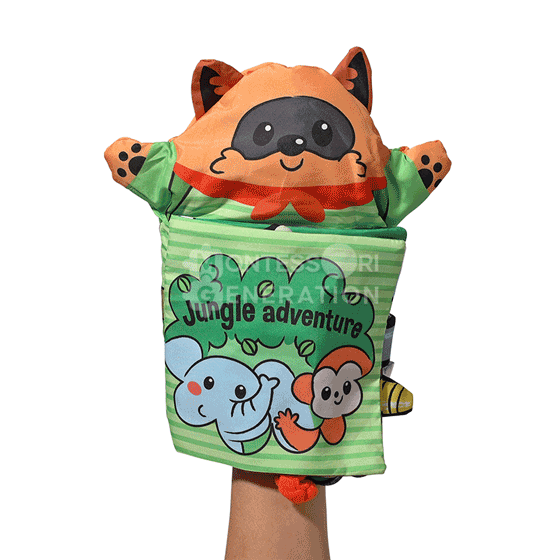 As a new parent, you need all the help you can get.
You wake up 3 times a night, stress about how they eat, and never get a minute of proper sleep. And you have to worry about their development and learning too?! Relax... We've got you covered on that front, at least. Here's everything your baby will benefit from:

They will develop sensory functions and strengthen their hand-eye coordination

They will train their hearing and develop spatial awareness

Reading this book together and pointing things out will develop their sight and grasping

This toy also reduces infants' anxiety, agitation, discomfort, and restlessness
You care about safety, and that's why we do too!
The one thing every new parent obsesses over is their baby's safety. You do as well. So it's only natural that the toys your baby comes in contact with present no danger. Hence the "cloth" book. Every part of it is soft but durable enough to withstand all the gnawing and tearing.

You can just throw it in the washing machine.
Since your baby will most likely try to chew on it, the toy must always be perfectly clean. But you don't have time to wash it by hand all the time. That's why we made it washable in the washing machine. Just use the lower temperature settings. Throw it in there and forget about it!

This is a quick and easy solution to give yourself a well-deserved rest at the end of the day. Don't wait any longer - Buy Now!
World's most secure payment method
We wish to make your Montessori experience absolutely risk-free. If your child isn't happy with one of our toys within a year, or you think you didn't get your money's worth, we'll refund you.

Anything you order, we'll deliver for free, wherever you are. Free worldwide shipping is guaranteed for all orders, regardless of size or value.

Easy Returns - No Questions Asked

Verified Payment Channels

Use any payment method you feel 100% secure with - MasterCard, Visa, PayPal, American Express, JCB, or Apple Pay.

Use Afterpay and pay only 25% of the cost upon purchase. The rest is spread over the next 6 weeks, with payments coming in every other week.

High Quality & Safety Certified

The toys you'll receive are completely safe for your child. Every toy is safety certified for a specific age, and we use only the highest quality materials to produce them.

Amanda, Hannah, Emily & Jane are the reason why our customer support team is so awesome. They'll assist youwith every part of your Montessori journey.
But that's not all!
Once you become our customer, you also get:
Early Access to Our Holiday Sales

You'll get discounts and promo codes in your inbox before others - you'll avoid the holiday rush and have a full selection to choose from before the stocks run out.

Free Educational Articles

Everything you ever wanted to know about the Montessori method, how to apply it at home, fun and practical activities you can do with your child, and so much more right in your inbox. We wish to give you the full Montessori experience, more than just toys.
Finally, if you have a question or concern or just want to say hi, write to us at
info@montessorigeneration.com
, and we'll get back to you as soon as possible.
Take advantage of this offer, and surprise your little one with a great educational toy.
Order Yours Now
.
World's most secure payment method